The Philosophy of Yoga: A Traditional Workshop on Patanjali's Yoga Sutras With Dr.M.A. Jayashree and Professor M.A. Narasimhan November 1 - 5, 2019
The origin of yoga
We are honored to host the renowned Indian teachers and Sanskrit scholars Dr. M.A. Jayashree and Professor M.A. Narasimha on their European tour.
From their institute in Mysore, India, they teach Sanskrit and yoga philosophy to students from all over the world who come to study Astanga Yoga at its source.
Jayashree is a specialist in teaching students with the traditional call and response method called 'Sruti Parampara', where you "sing" and recite the traditional yoga scriptures Yogasutra and Bhagavadgita. Narasimhan offers lectures and discussions on yoga philosophy and provides a broad and deep understanding and connection to the deeper aspects of yoga in an easy-to-understand, engaging and stimulating way.
In addition to Yoga Sutra teaching, there will be an evening dedicated to being instructed in the auspicious and powerful Gayatri Mantra.
This is a unique opportunity to be taught by some of the most respected and experienced teachers in this area of knowledge. The workshop is an opportunity for all yoga students, yoga teachers and anyone else interested in yoga, Indian language, culture and tradition to enrich their understanding of the philosophical framework of yoga directly from a clear and authoritative source.
At the workshop you will learn the original source script of yoga, the yoga sutra of Patanjali - by singing the verses, followed by lectures and discussion on the meaning of them. In this way, you gain insight and knowledge of the roots and origins of yoga and expand your own experience and knowledge.
'Srutiparamparaa' call and response method, is a traditional and effective method of pronunciation, remembering and understanding Sanskrit language and texts. The method is accessible to all, and is in itself a traditional and transformative yoga practice.
"Dr. M. A. Jayashree's recitation of Sri Pantajali's Yoga Sutras is superior. Not only is her intonation and pronunciation impeccable as one would expect from a Sanskrit teacher at her very high level, but her sincere and genuine connection to the text shines through clearly. If you are interested in deepening your experience of this universal teaching, whether as a yoga teacher, yoga aspirant or linguist, you should not miss this opportunity".
Dansk
Yogaens oprindelse
Yoga filosofi: Workshop om Patanjalis yogasutra med Dr.M.A. Jayashree og professor M.A. Narasimhan d. 1. - 5. november 2019
Vi er beærede for at være vært for de anerkendte indiske lærere og sanskrit-lærde Dr. M.A. Jayashree og professor M.A. Narasimha på deres Europæiske turne.
Fra deres institut i Mysore i Indien underviser de sanskrit og yogafilosofi til studerende fra hele verden der kommer for at studere Astanga Yoga ved dens kilde.
Jayashree er specialist i at undervise elever med den traditionelle kalde- og svarmetode kaldet 'Sruti Parampara', hvor man "synger" og reciterer de traditionelle yoga skriftkilder Yogasutra og Bhagavadgita. Narasimhan tilbyder forelæsninger og diskussioner om yogafilosofi og giver på en letforståeligt, engageret og stimulerende måde en bred og dyb forståelse og forbindelse til de dybere aspekter af yoga.
I tillæg til Yoga Sutra undervisning, vil der være en aften dedikeret til at blive instrueret i det gunstige og kraftfulde Gayatri Mantra.
Dette er en unik mulighed for at blive undervist af nogle af de mest respekterede og erfarne lærere inden for dette vidensområde. Workshoppen er en mulighed for alle yogastuderende, yogalærere og alle andre med interesse for yoga, indisk sprog, kultur og tradition til at berige deres forståelse af de filosofiske rammer for yoga direkte fra en klar og autoritativ kilde.
På workshoppen lærer du det originale kildeskrift af yoga, yoga sutra fra Patanjali - ved at synge versene, efterfulgt af foredrag og diskussion om betydningen af dem. På denne måde får du indsigt og viden om yogaens rødder og oprindelse og udvider din egen oplevelse og viden.
'Srutiparamparaa' opkalds- og responsmetode, er en traditionel og effektiv metode til udtale, huske og forstå sanskrit sprog og tekster. Metoden er tilgængelig for alle, og er i sig selv en traditionel og transformerende yogapraksis.
"Dr. M. A. Jayashree's recitation af Sri Pantajali's Yoga Sutras er overlegen. Ikke kun er hendes intonation og udtale upåklagelig, som man kunne forvente af en sanskrit lærer på hendes meget høje niveau, men hendes oprigtige og ægte forbindelse til teksten skinner tydeligt igennem. Hvis du er interesseret i at uddybe din oplevelse af denne universelle lære, hvad enten du er som yogalærer, yogaspirant eller sprogforsker, bør du ikke gå glip af denne mulighed".
Date and times
The program is 5 days from Friday 1st to Tuesday 5th November. You can attend one, several or all days as you wish.
Friday 1 November. 18.00 – 20.00
Saturday 2 November. 11.00 – 15.00
Sunday 3 November. 11.00 – 15.00
Monday 4 November. 18.00 – 20.30
Tuesday 5 November. 18.00 – 20.30
Program
Friday 1 November 18.00 - 20.00
Introduction to chanting
Presentation of Jayashree and Narasimhan. Introduction to Sanskrit, the language of Sacred Scriptures and introduction to Indian thought and to Patanjali Yoga Sutra.
Saturday 2 November

11.00 – 12.30
Chanting the Yoga Sutras
Chapter 1 of Yoga Sutras: Concentration, Samadhi Pada (selected sutras from 1st chapter)
13.00 – 15.00
What is yoga
The definition of Yoga according to Patanjali's Yoga Sutra and selected topics from chapter 1. Practice and non-attachment, types of concentration, efforts and commitment, obstacles and solutions, stabilizing and clearing the mind. Time for questions and answers at the end.
Sunday 3 November

11.00 – 12.30:
Chanting the Yoga Sutras
Chapter 2 of Yoga Sutras: Practice, Sadhana Pada (selected sutras from 2nd chapter)
13.00 – 15.00
Astanga Yoga: the eightfold path
Selected topics from chapter 2. The 8 legs and discrimination. Understanding the Yamas and Niyamas, Asana, Pranayama, Pratyahara. Time for Questions and Answers at the end.
Monday 4 November 18.00 – 20.30
The powerful Gayatri Mantra
Presentation and learning the powerful and auspicious Gayatri Mantra. Learn the correct pronunciation, invocation, meaning and significance and how to use (chant) it. Time for Questions and Answers at the end.
Tuesday 5 November 18.00 – 20.30
Chanting the Yoga Sutras
Chapter 2 of Yoga Sutras: Practice, Sadhana Pada (selected sutras from 2nd chapter). Progressing, Dharana, Dhyana, and Samadhi the last legs of Astanga Yoga. And time for Questions and Answers at the end. Repetition and sharing experience of chanting the Gayatri Mantra.
Price and sign up:
To signup please send an email to kontor@astangastudio.dk with the days you like to attend.
All days: Fri. 1 Nov. to Tues. 5 Nov. DKK 1500
All days, STUDENT discount: DKK 1000
Friday 1 November, 18.00 – 20.00 DKK 250
Saturday 2 Novembe, 11.00 – 15.00 DKK 450
Sunday 3 November, 11.00 – 15.00 DKK 450
Monday 4 November, 18.00 – 20.30 DKK 300
Tuesday 5 November, 18.00 – 20.30 DKK 300
Please bring payment in cash only
See Jayashree and Professor Narasimhan in the beautiful video "Living Masters" by master filmmaker Alessandro Sigismondi
Download learning tools by Dr. M. A. Jayashree
All recordings and learnings tools by Dr. M. A. Jayashree available here
About Jayashree and Narasimhan
Jayashree & Narasimhan offer these teachings for the greater peace of mind and happiness of all. Their wonderful teachings represent a unique opportunity for all yoga students (and teachers of yoga) to gain deeper insights into the wisdom and teachings of yoga. Jayashree teaches using the traditional call-and-response style of 'Sruti Parampara', which dates back to Vedic times as the most direct and effective means of preserving and transferring the knowledge acquired by sages and scholars.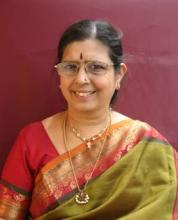 Dr. M.A. Jayashree, Professor of Sanskrit, Mysore, Karnataka has been teaching all aspects of Sanskrit for the last 30 years. She holds a doctorate in Sanskrit from Bangalore University on the topic, "Concept of Mind in Indian Philosophy."
She has authored many books in the fields of Sanskrit, Ancient Sciences, Indian history, Indian Culture and Music. She has presented papers on Sanskrit, Indian knowledge systems and culture in many national and international fora. She has also conducted a number of workshops in India and abroad. Her workshops are generally in the fields of Sanskrit language and the Yoga Sutras of Patanjali.
She is a multifaceted personality, a musician with a melodious voice, an accomplished artist of the Mysore school of Painting, delivers discourses on Puranas, Tiruppavai & Philosophy. She is a great teacher of spoken Sanskrit. She has given performances in classical music in the Karanatic style all over South India.
She is also the editor of 'Itihasa Rashmi', a journal on Indian History in Kannada. Jayashree was featured in the movie "Guru" about Ashtanga guru Sri K Pattabhi Jois. She is also the editor of 'Itihasa Rashmi', a journal in Kannada on re-writing Indian History, and conducts classes on Indian vegetarian cooking (yogic food).
As a proponent of the 'Srutiparampara', she has produced many CDs in the field of Sanskrit learning along with the Yoga Sutra of Patanjali and Bhagavad Gita. The CDs are designed as teaching aids to help people learn the chanting and memorization of the important Sanskrit texts of ancient Indian culture.
She has a large following of overseas students engaged in studies of ancient lore of India mainly Yoga Sutras of Patanjali, Bhagavad Gita and the Sanskrit language.
She has presented a paper on a music topic at the 13th World Sanskrit Conference held at Edinburgh. She has been awarded as a 'South East Asian scholar' of merit by the American Academy of Religions, and to participate and present a paper in their Annual Meet Nov.2008 in Chicago.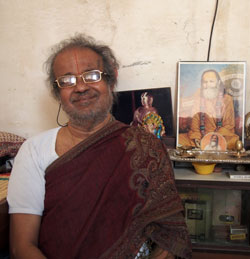 M. A. Narasimhan Director of the Anantha Research Foundation in Mysore, is a science graduate holding Masters in Education with specialization in advanced psychology and research methodology, and also in Sanskrit.
He has specialized in the Indian philosophical systems and the various practices of yoga, and is a disciple of His Holiness Maharishi Mahesh Yogi. He is a teacher of Transcendental Meditation, having taught the TM technique to more than 20,000 people and trained more than 1,000 teachers of Transcendental Meditation.
He has held many responsible posts in the then Mahrishi Institute of Creative Intelligence. As the director for the TM operation in the entire south India, he had more than 600 teachers helping him to spread the message of TM. He was instrumental in opening small-scale industries and many schools in different parts of India. He has been a Siddha practitioner, reaping the benefits of advanced techniques.
He is a research scholar specializing in the fields of Indian culture and the Sciences of ancient India. With a considerable number of books, monographs, and papers in the fields of Indian history, Science, Sanskrit and philosophy to his credit, he is also the editor of journals such as Ithihasa samachar, Ithihasa Rashmi.
Currently he is engaged in the investigation of "Supa saastra" in Indian tradition (the food tradition of India)" with INSA, 'History and geographical information in the Puranas' with Bharateeya Itihasa Sankalana Yojana, and preparing a critical edition of Patanjali's Yogasutra with all the available commentaries and their English translation with Asian classics Input Project, New York and also on 'Cosmology in ancient Indian Texts.